Residential Water Damage Repair, Water Damage Restoration, Water Damage Clean Up Services in Raleigh, Cary NC
Carolina Water Damage Restoration is a leading provider of comprehensive residential water damage repair, restoration, and clean-up services in Raleigh, Cary, and the surrounding areas. With years of experience and a highly skilled team, we are well-equipped to handle a wide range of water damage situations that can occur in residential properties. Water damage is a serious concern and can cause extensive damage to your home if not addressed promptly and effectively. Our first priority is to respond quickly to your call and take immediate action to remove water and start the drying process. This helps prevent further damage to walls, floors, carpets, and other belongings, saving you both time and money in the long run.
Whether it's flooding from heavy rain or storms, a leaky pipe, sewer backups, or other water-related issues, our team is trained to handle it all. We understand the urgency of water damage situations, which is why we offer 24/7 emergency services. You can count on us to be there for you when you need us the most. Our efficient and thorough approach ensures that your home is restored to its pre-damaged condition, providing you with peace of mind and a safe living environment.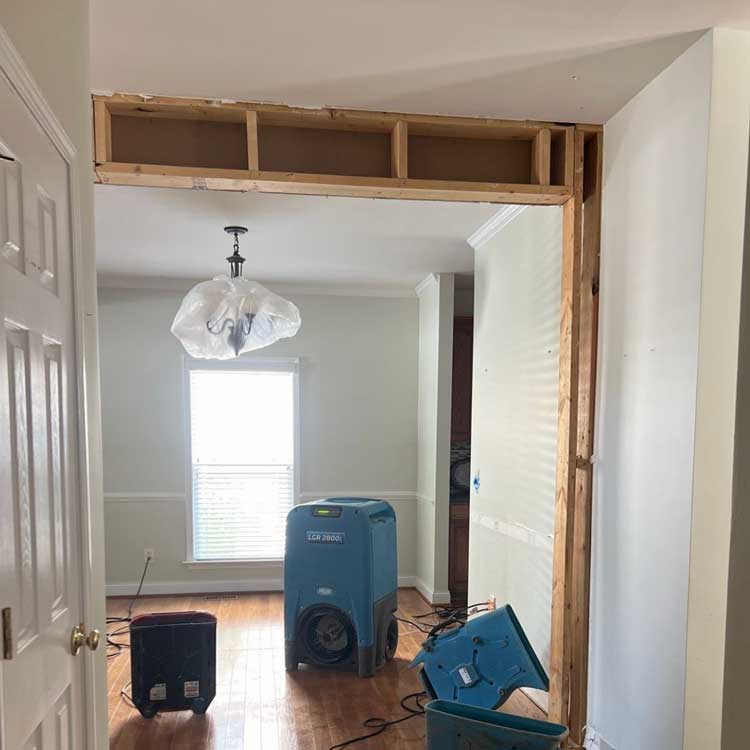 Apart from water damage, we specialize in residential sewer backup cleanup, sewage backup repair, and sewage backup restoration services. Sewer damage poses serious health risks due to contaminated water and substances. When you experience a sewer backup, it is crucial to act quickly to protect you and your family's health. Our team arrives promptly at your home, assesses the situation, and takes immediate action to fix the source of the backup and clean up the affected area. We aim to restore your home to its original dry, odorless, and clean state, ensuring the safety of your family.
Mold can also be a common issue in homes, especially in areas with moisture problems. Carolina Water Damage Restoration provides expert residential mold remediation, mold removal, and mold restoration services. Mold can create an unpleasant odor and pose serious health risks, especially to individuals with respiratory issues. Our team is equipped with top-of-the-line tools and has the knowledge and experience to detect and treat mold infestations properly. With our services, you can be assured of a mold-free and healthy living environment.
In addition to water damage and mold remediation, we also offer residential storm damage cleanup, storm damage repair, flood damage repair, and flood damage restoration services. Severe weather incidents can cause significant damage to homes, from fallen trees to flooding. Our experts are here to help you through these challenging times. We start by protecting your home from further damage and then proceed with the necessary repairs to restore your home to its pre-storm condition.
Carolina Water Damage Restoration is committed to providing the highest level of service to our customers. Our technicians are trained, certified, and experienced, ensuring that the work is done efficiently and professionally. We take pride in our attention to detail and dedication to customer satisfaction.
Whether you need water damage repair, sewer backup cleanup, mold remediation, or storm damage restoration, Carolina Water Damage Restoration is the name you can trust. Don't wait until the damage gets worse; contact us at (919) 535-4072 or reach out to us online for a free estimate and immediate assistance. We are here to help you restore your home and protect your investment.