Burst Water Heater Leak Water Damage Repair Cary NC
If your water heater breaks creating water damage in your home or business in Cary NC, it can spread quickly or very slowly over time. If your water heater has burst and the water damage is immediately noticeable, contact Carolina Water Damage Restoration as soon as possible. A slow leak from your water heater, however, may go unnoticed. This can lead to major damage over time as well as mold damage issues. If you have noticed mold growth or standing water under your water heater, or if you suspect you have a water heater leak, it's be to call a water damage restoration expert as quickly as possible. When you call Carolina Water Damage Restoration for your burst water heater water damage repair, our 24 hour emergency cleanup team will stop the water damage at it's source before restoring the affected areas to their pre-loss conditions.
Washing Machine Overflow Water Damage Repair Cary NC
Washing Machine Overflows and leaks can cause a lot of water damage if the leak isn't in a confined space with a drainage system close by. Because homes and apartments sometimes have their washing machines on a second floor, the overflowing water can damage the carpeted areas on that floor and then seep into the floor and walls, ultimately, causing damage to the ceiling on the floor below. If the water is left standing for a long period of time, it can lead to mold growth and damage to floor. Even if you think you've cleaned all of the water up, if the water has gotten into the carpets, you may be surprised at what you may have missed. If your washing machine has overflowed and caused water damage to your home in Cary, NC, it's a good idea to call a certified water damage restoration company, like Carolina Water Damage Restoration. We will stop the source of the damage, extract water from any carpets, dry out the affected area and then restore your flooded laundry room to it's previous condition.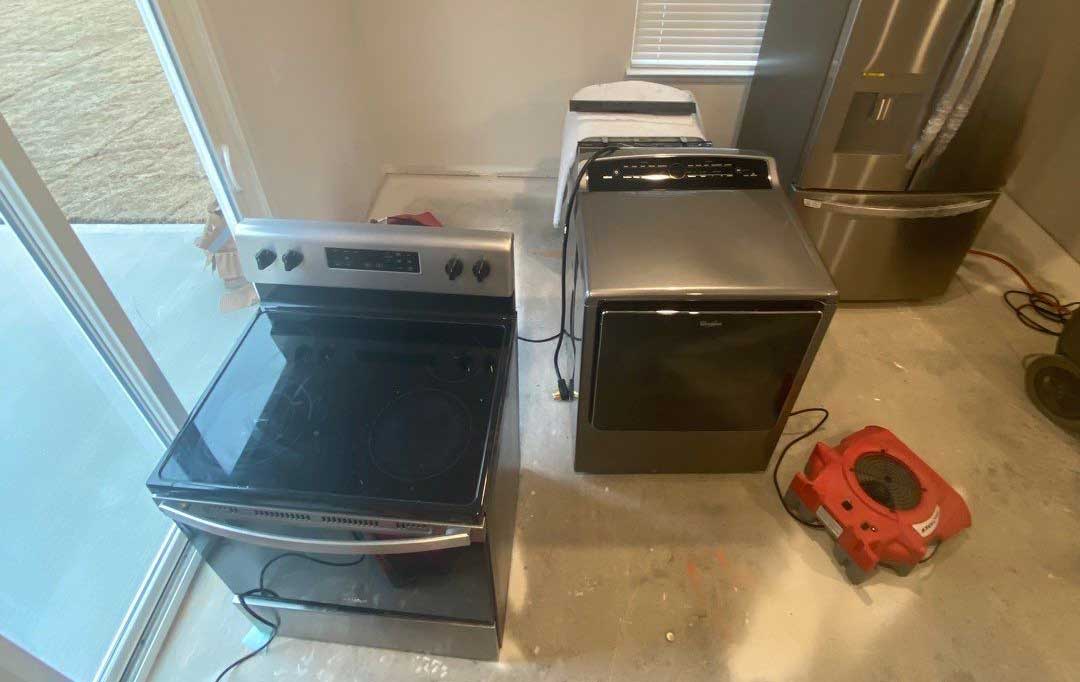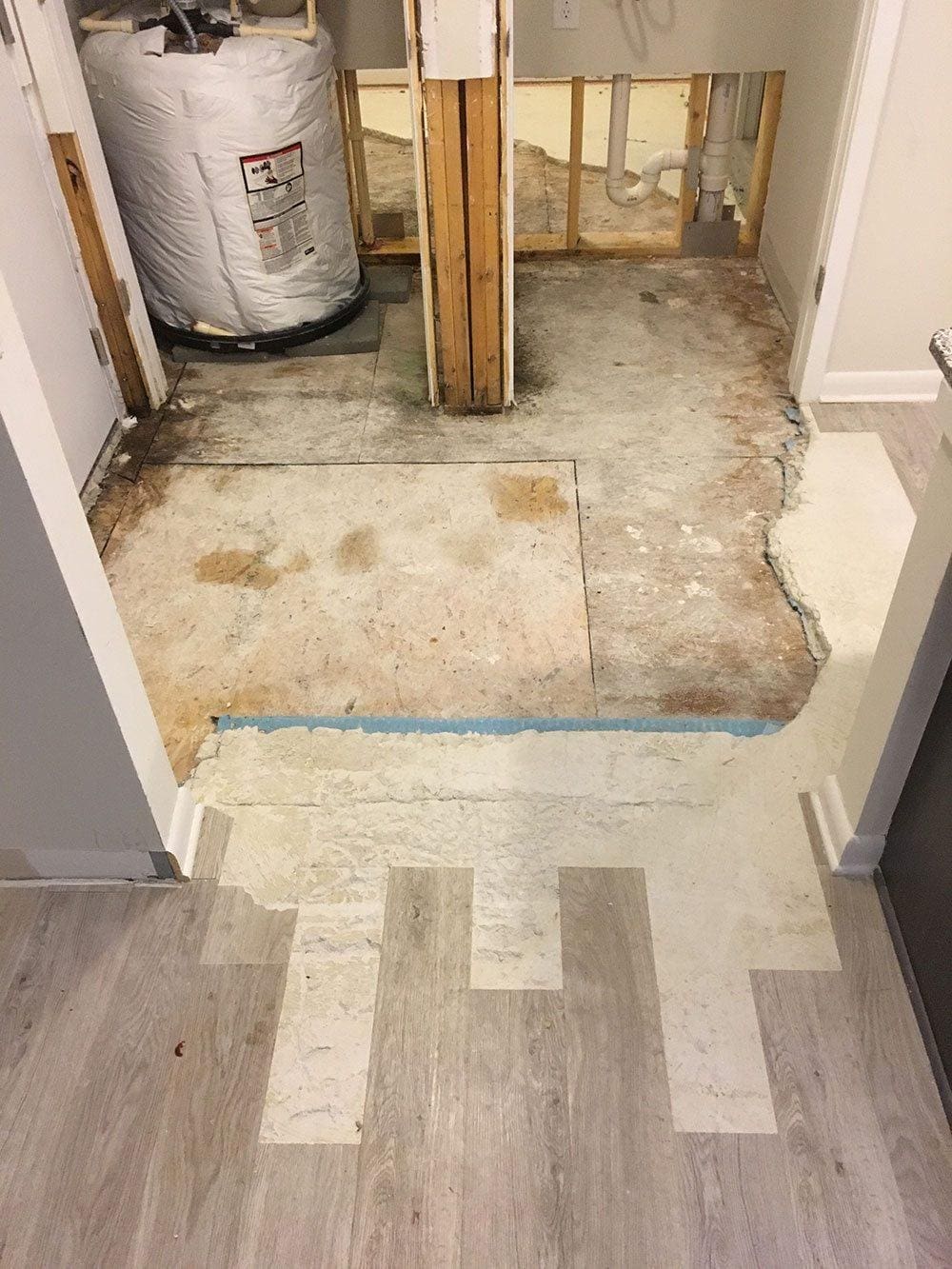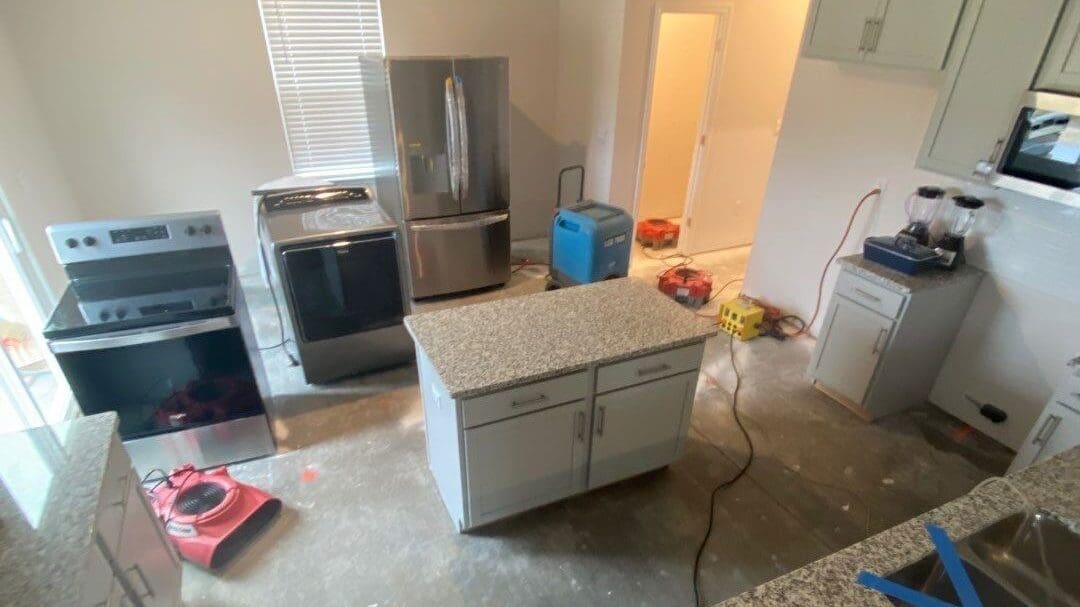 Dishwasher Flood Cleanup Cary NC
If you have a leaky dishwasher and have noticed water around the base of your dishwasher or in your kitchen area, it's a good idea to call a water damage restoration company. Carolina Water Damage Restoration can help restore damage caused by a leaky or broken appliance, such as a Dishwasher. Even if you have mopped up the water, the dishwasher may have been leaking for sometime and has just gotten bad enough for the water to leak into visibility. That could mean damage to your kitchen, or mold growth, which you don't see. Carolina Water Damage Restoration is staffed with mold remediation experts to make sure there isn't a mold issue after a dishwasher leak. When you call our 24/7 emergency water damage repair team, we'll inspect the affected area, remove any water and mold and then restore your kitchen or dishwashing area to it's original condition.
Refrigerator Leak Cleanup Cary NC
Water Damage from a Leaky Refrigerator doesn't always happen quickly. Sometimes, the water line behind the fridge can crack and weaken over time. A slow leak like this can create a massive amount of water damage that you aren't aware of and by the time you notice water around the refrigerator, it may have already progressed. That's why it is a good idea to call a water damage restoration expert at the first sign of water around your refrigerator. When you call Carolina Water Damage Restoration to clean up flooding from a refrigerator, we come on site and inspect the affected area. We will extract any water from the area and then inspect for mold growth. If we find mold has been growing, we will remediate the mold and then begin on restoring your kitchen (or other affected areas) to their original conditions. If you live in Cary, NC, or the greater Triangle area of North Carolina, call Carolina Water Damage restoration today for a free consultation.
Our Other Water Damage Services in Cary