Water Damage from Broken Water Heater in Apex, NC
If you have a broken water heater you may require Burst Water Heater Water Damage Repair from Carolina Water Damage Restoration, in Apex, NC. When a water heater burst spreads water damage rapidly the water damage should be repaired quickly, to help mitigate mold growth. Sometimes, though, a leaky water heater spreads water so gradually that the leak goes unnoticed until signs of water spots or mold growth appear around or beneath the water heater, the damage may already be severe. That's why the moment you suspect your water heater is broken contact our 24/7 on-call water damage restoration team in Apex, NC for a free consultation at 919-302-2729 or online.
Washing Machine Leak and Overflow Cleanup in Apex, NC
Water Damage from Washing Machine leaks and overflows may occur at any time from accidental misuse or appliance dysfunction. Homes and apartments with washing machine units located on the second floor or higher, may risk further water damage concerns. When a washing machine floods, water can seep into the surrounding carpets and lead to mold growth. Water damage might even spread to the ceiling of the room below. Even if you believe that you have removed enough water that and carpet feels dry at the surface, you might be surprised how much water has already seeped beneath and how fast the water damage appears from it. If your washing machine is causing water damage please contact the professionals at Carolina Water Damage Restoration in Apex, NC. On-call Water Damage and Mold Remediation experts and service teams are available 24/7, year round.
Free consultations from our experts in Apex are available upon contact by phone and online. Call us anytime at 919-302-2729 or contact us online to get a free consultation.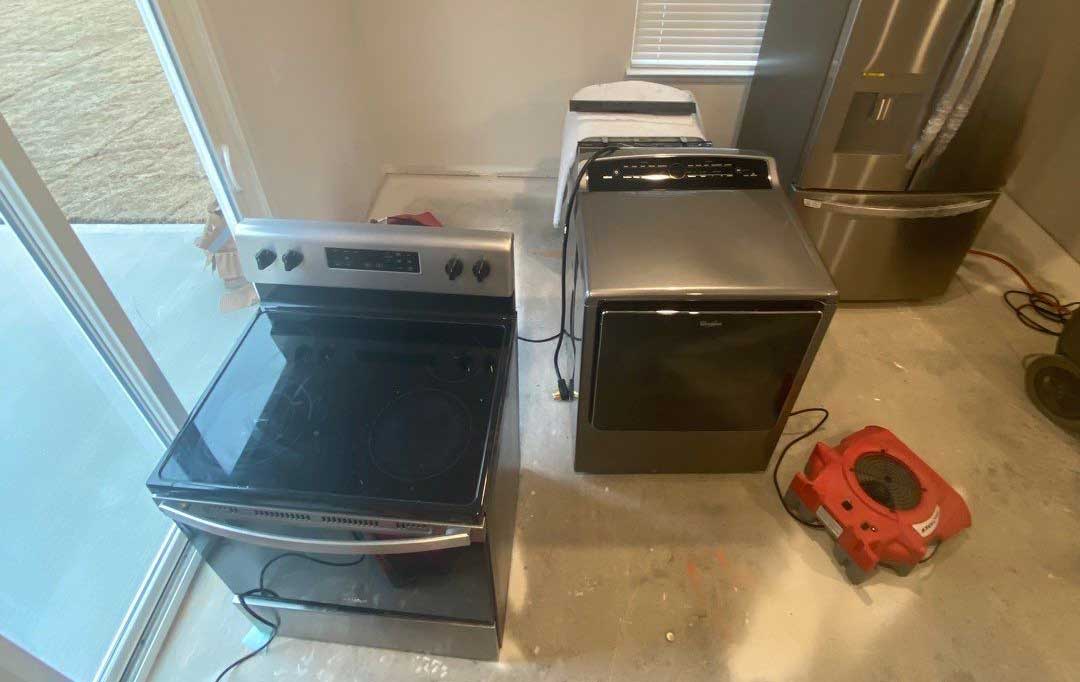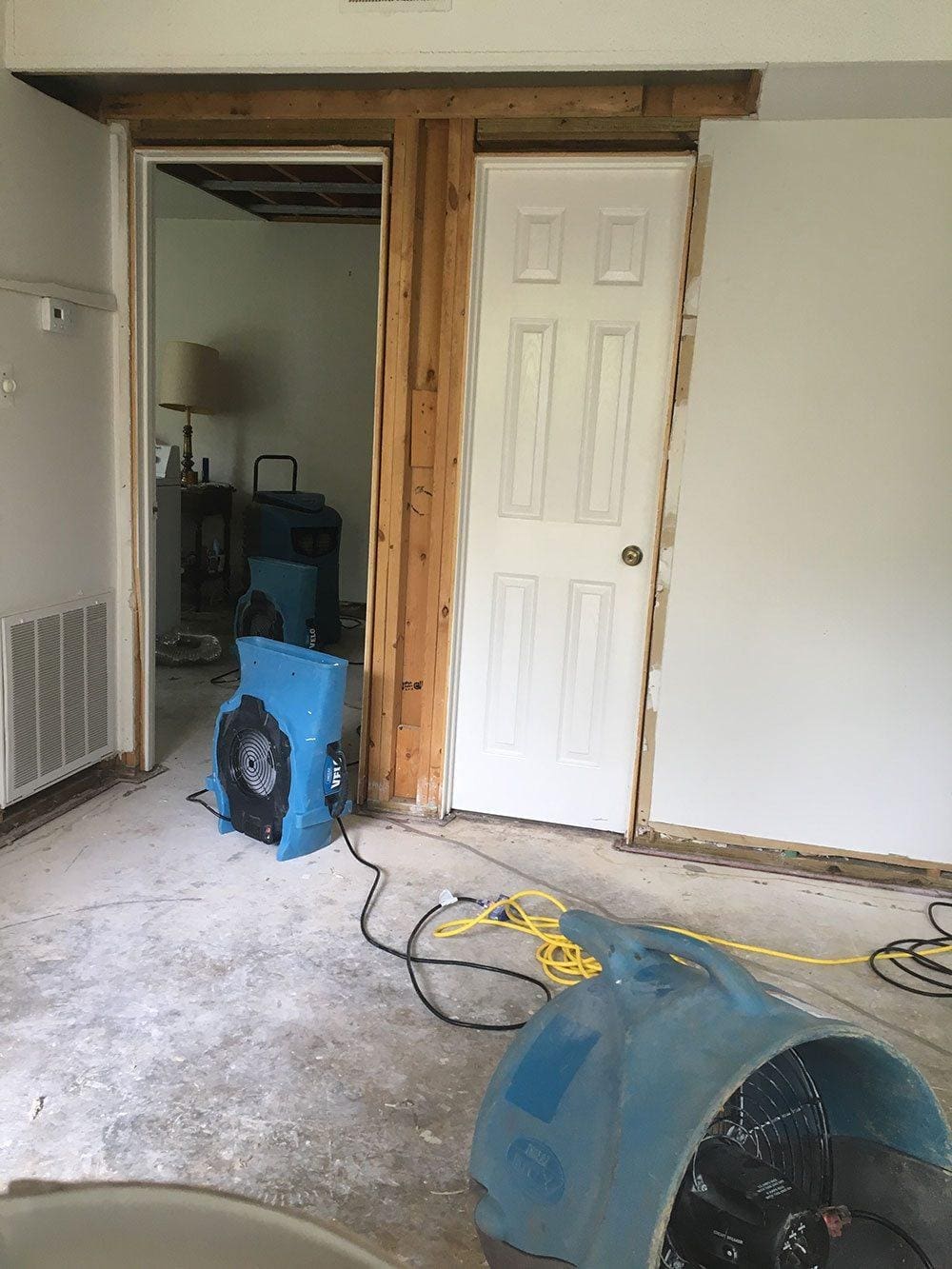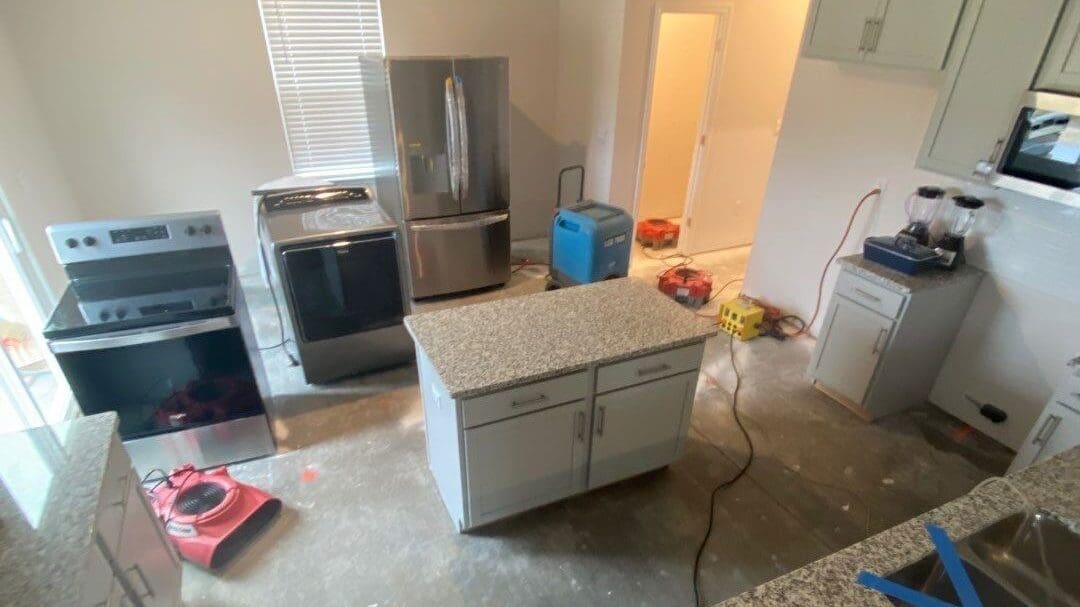 Dishwasher Leak,Overflow and Flooding Cleanup Apex, NC
Dishwasher leaks, overflows, or pooling water inside your unit can occur for numerous reasons. These issues tend to arise suddenly, at any time, during any part of a washing cycle and are often difficult to control or clean up. Carolina Water Damage Restoration service experts are on-call 24/7 with emergency teams ready to arrive, assist and restore your home from water damage caused by your dishwaser. Our technicians are certified, trained, and experienced in each service we provide. Whether you need us for water damage inspection, water removal, standardized cleanup, or mold remediation we have done it all before and continue to do so as the best company with reliable experts.
Leaky Refrigerator Water Damage and Cleanup Apex, NC
Refrigerator leaks typically occur slowly and often go unnoticed or ignored until massive water damage surfaces or your refrigerator ceases to function as expected. Sometimes the cause is the water line behind the fridge cracking, slowly yet progressively weakening and causing water damage. Due to its location this also means by the time you notice any signs of water or water damage it has already been present for a while. This is why it'd be in your best interest to contact your local 24/7 on-call Water Damage Restoration team at the first sign of water. Our team follows Flood Cleanup procedures, inspect for any water damages, mold growth, mold damages, mold remediation, and complete total repair and restoration of your refrigerator and the affected areas of your kitchen. Contact us for a free consultation for any of your water damage concerns so you know what to expect before the unexpected happens.
Our Other Water Damage Services in Apex